Smartphone VR Start Guide
This is the cheapest to view your VR videos. The quality doesn't match the more expensive VR headsets but for only a few dollars it's a great way to give it a go! In this guide we'll walk you through how to view our Grooby 3D Videos on your smartphone, using a cheap cardboard viewer.
1. Purchase your viewer
There are lots of different generic VR viewers on the market, but we'd tend to recommend you use
Google Cardboard
which is tried and tested. However, if you are unable to purchase this viewer, take a look on your local eBay and you should find plenty of alternatives.
2. Install a VR Player
There are many free VR Players in both the Google Play Store and also the Apple Appstore so read some reviews and try a free one out. We recommend
Skybox
which can be downloaded for free. It provides a great experience on all platforms and also allows you to stream the videos to your phone from your desktop computer, saving you that precious storage space on your phone. For Android users there is also
Fulldive
which is a good free option, and for Apple users
Homido 360
generally gets good reviews.
3. Download your chosen video
Be sure to select the "Regular Smartphone" option and once the download has completed you may then proceed to download the video to your computer.
3. Copy the video to your phone
You may have already download the video directly to your phone (in which case skip this step) but chances are you've download it to your computer so you'll need to copy it onto your phone. However, if you choose to use the
Skybox
app, you can also install the desktop client and stream the video from your computer to your phone.
Connect your phone to your computer via USB cable. Depending on your phone you may need to touch and drag the notification bar down then selected "Connected as a media device" before you can copy your files.
Fulldive - this Android app should pick up all videos on your phone, so copy your Grooby VR video to your /video/ folder on your phone.
NOTE:
if you see this image or a similar one, please click "no, just copy" so you don't change the format of the file.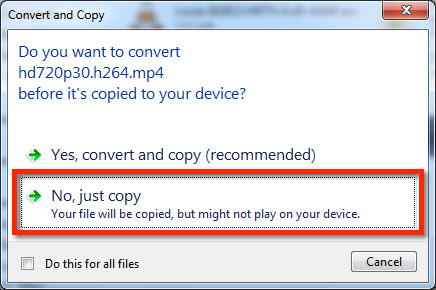 4. Start your VR App
Load your chosen VR App and navigate to the Grooby VR video you wish to view then when it's ready insert your phone into your Cardboard viewer.
5. Play the Video!
Place the headset on (we also recommend headphones for the immersive experience!), sit back and enjoy the video!
We also strongly recommend
Skybox VR Player
app which can be downloaded for free from within Oculus. It provides a better experience, and also allows you to stream your VR videos directly from your computer over your wifi network - saving you from copying your videos to your phone and saving your precious phone storage space! If your video does not display correctly in Skybox, please use
this guide
.