Samsung Gear VR Start Guide
In this guide we'll walk you through how to view our Grooby 3D Videos on your Samsung Gear VR device, using your Samsung mobile phone.
1. Ensure you're up to date!
Please ensure your phone is running the latest version of Android and Oculus Store.
2. Download your chosen video
Once you have chosen your video, be sure to select the "Samsung Gear VR" option as shown below. Once purchased you may then proceed to download the video to your computer.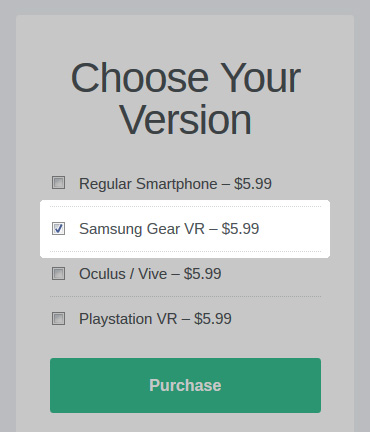 3. Copy the video to your phone
Connect your phone to your computer via USB cable. Depending on your phone you may need to touch and drag the notification bar down then selected "Connected as a media device" before you can copy your files.
Navigate to the /oculus/movies/ folder on your phone and inside this folder, create a new folder called /360videos/ if it does not already exist.
Copy your Grooby VR video into this folder.
NOTE: if you see this image or a similar one, please click "no, just copy" so you don't change the format of the file.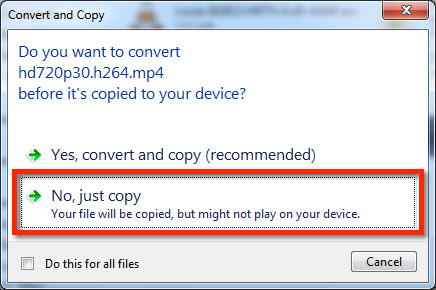 4. Start the Samsung Gear VR
Load your phone into your headset and allow Oculus to load. This should happen automatically when you connect your headset. Place your headset on, and if possible we also recommend headphones for the fully immersive experience!
5. Play the Video!
Once in your Oculus home, you should be able to choose "My Videos" and see all of your videos listed, including your 360 Videos, which is where you will find the file you just copied. Sit back and enjoy!
Should you wish to try another video player for your Samsung Gear VR, we recommend Skybox which can be download for free.